Locally owned & operated stores offering the best supplies at the best prices for every dog and cat!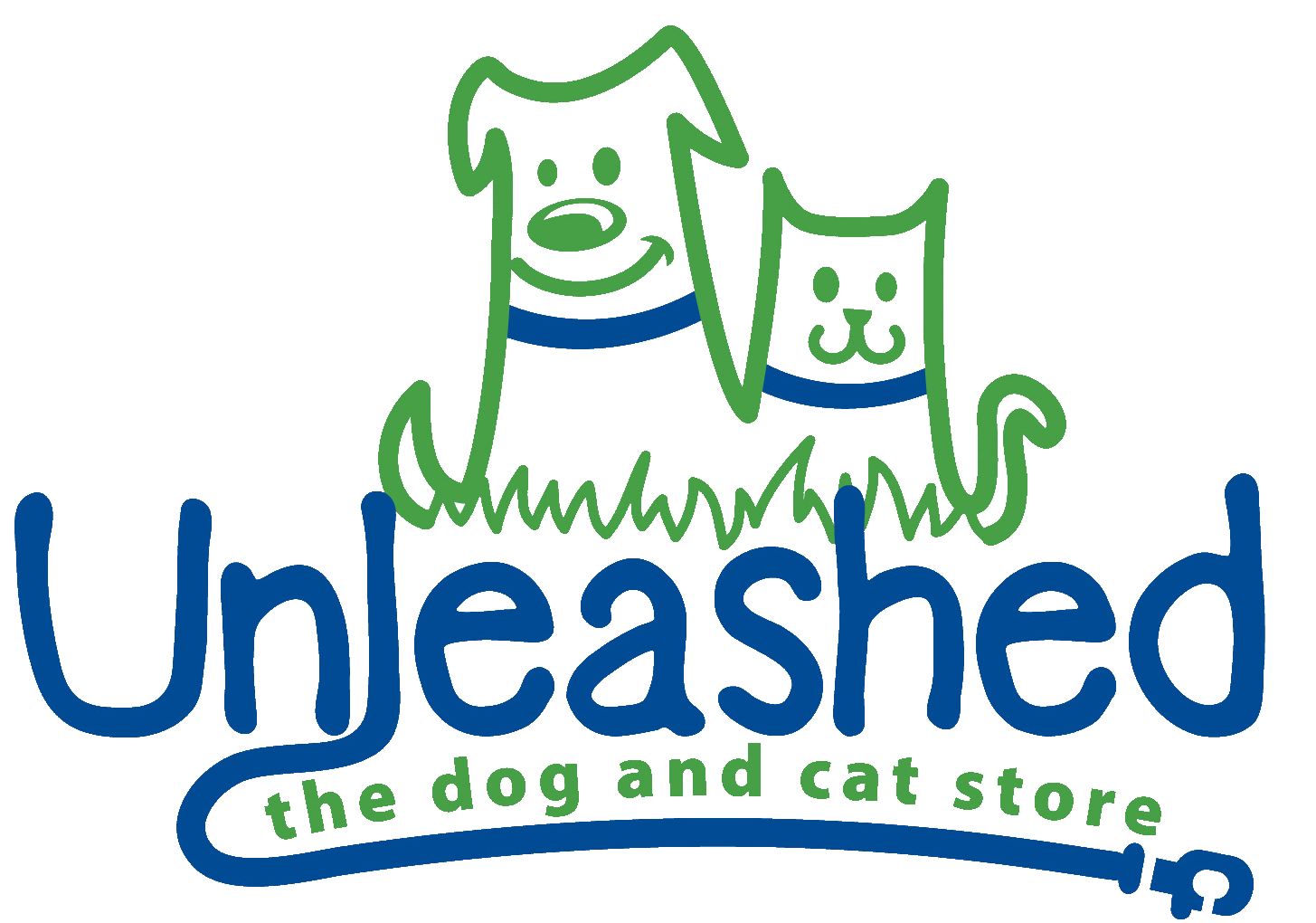 About Unleashed, LLC aka Unleashed, the Dog & Cat Store
Unleashed is a privately & locally owned and operated company with locations in Raleigh, Cary, and Wilmington, NC, striving to provide "the best a dog can get," at reasonable prices! We really want every dog to be as happy and healthy as ours. Read more about our mission statement here.
Unleashed began February 24, 2007 at the NC State Fairgrounds Marketplace, with a table, a display stand, a garden umbrella, a girl and her dog. We quickly expanded our little "shop" and later added our online store. In October 2007, we were invited to the NC State Fair, and business kept growing. Thanks to our families, our loyal customers, and our Marketplace family we had surpassed our wildest expectations for the first year!
Motivated by a great year and awesome customers, we decided that we needed to be open 7 days a week. Thus, Unleashed, the Dog Store, was born. On April 8, 2008, Unleashed became an LLC, and we began our hard work turning a dollar store into a dog store. It wasn't easy. We spent 10 days just doing the floor! The old carpet had to go, and so did 30 years' worth of carpet glue, tile glue, and whatever else was coating the concrete floors over the years.
After the floor, the rest was easy. Lots of paint, glue, nails, screws, and anything else we could run up on our new Lowe's card. But with the best team (thanks especially to my mom and dad) we got it done and opened our doors at Lake Boone Shopping Center on June 2, 2008! Just over a month later we celebrated our Grand Opening and haven't had a dull moment since.
​
Ever since the doors opened, we have been blessed with such amazing, supportive, and loyal customers that business has been growing daily! In the late summer of 2010, we were presented with an opportunity to expand our business into North Raleigh, and thus began the painting and fixing up process yet again. Fall 2010 was a busy time with getting the new location ready while still attending the NC State Fair during October and hosting our busiest party ever for Halloween! November 1, 2010 we officially opened our second location in Stonehenge Market just in time for the holidays.
​
As owners, Amy & JP continued to work in both stores, but we couldn't do it all by ourselves. Fortunately, our sister/sister-in-law, Jamie began working with us while in college and her then-fiancé became involved too as the years went on. Little did any of us know that their part-time college job would turn in to both of them being full-time managers. Jamie became the manager our Lake Boone location, and Hilal (now her husband) became the manager of our Stonehenge location. As we grew to two stores, we found ourselves needing even more help and one of our very first customers, Katie, became an assistant manager.
Amy being a UNCW alumni and both Amy and JP having lived in Wilmington, we visited the area often. Every time we would go to Wilmington, we would drive past the Landfall Shopping Center and talk about how great it would be if we could have a store there. One day we were telling Katie about how much we would love to have a store there, but we just didn't know how it could be possible, and she mentioned that she would be willing to move to Wilmington! We talked with her about if a few months later and she was still interested! Our dream was about to come true! Katie would move to Wilmington and become the full-time manager of our Landfall store, and we would get to live in Raleigh and Wilmington, and enjoy the best of both communities! And so, the work began again. We painted, and built, and worked ourselves ragged to get the new store open by April 1st, 2012 (again with much help from family and friends!)
​
Throughout these years, we also expanded our family. When Unleashed was founded in 2007, we had one dog, Benny. Shortly after founding the business, while still running a booth at the flea market, we adopted another dog, Mr. Vixen. As our cat business grew, we decided that we needed some official cat product testers, and thus in 2010 headed to Wake County Animal Shelter and adopted two adorable kittens, Wesley and Buttercup. With our four furry babies, we already considered ourselves a "mom and pop" store, but we became a more traditional "mom and pop" with the birth of our baby boy, Walter, on January 1st, 2012. Almost 2 years later, we welcomed our second baby boy, Henry, on December 23rd 2013. A little more than 2 years later, on April 3, 2016, we welcomed our 3rd human baby, a little girl named Eleanor. About a year and a half later, we added a puppy, Lisa Mousie Grace, adopted from All Breed Animal Rescue of the Carolinas.
​
In 2013, with the pushing of a few good customers, we decided to take a look at opening a store in Cary. While visiting the area on a rare "day off," we fell in love with an empty space in the Crescent Commons shopping center. As timing would have it, Katie, who moved to Wilmington to manage our store there, felt pulled back to Raleigh for personal reasons, and was excited at the opportunity to open another new location with us! So, again we found ourselves faced with more painting, more work, and a very hectic October of doing the State Fair and working on getting a new location ready. We did it, and opened our Cary store November 2013. We also moved all of the paperwork out of our home and into an office and took over a kiosk at Crabtree Valley Mall that summer too!
​
We spent 2014 focused on our then 5 locations, office, and 2 very young children. Also, late 2014, our managers, Jamie & Hilal, announced that they were expecting their first human puppy. With the upcoming addition to the family, Jamie moved to the office and Hilal was promoted to "District Manager" overseeing both Raleigh locations. On June 10th, 2015, baby Joey officially joined the family.
​
Shortly after, we had another exciting announcement: In 2014, we were presented with a potential new location that we couldn't help but consider. Although we weren't necessarily looking to expand, this space had intrigue, charm, and sentimental value. In fact it was our runner up when we looked for our very first location over 7 years ago! The space itself hadn't changed much over the years, but the surrounding area had changed quite a bit, and for the better. As the months went by, we found ourselves frequenting the shopping center restaurants and talking about the possibilities. We decided it was only fair to consider other spaces too, but all the signs kept pointing towards this former "runner up" space. Eventually we couldn't ignore the signs, and decided that fall 2015 would be the perfect time to open up the 6th location of Unleashed in Downtown Raleigh, at City Market (across from Moore Square.) We immediately got to work painting and filling the store with all of our dog's and cats' favorite things. Grand opening was September 4th 2015!
​
Less than two years later, we were approached with yet another opportunity that we couldn't walk away from. We got a call from the director of a non-profit organization, AniMall Pet Adoption & Outreach Center. In addition to donations, they were supporting their mission, "to save the lives of homeless animals" by operating a retail store at Cary Towne Center. While they were great at saving lives, over 10,000 and counting, they were struggling with the retail store. A mutual customer recognized that our two missions aligned and passed along our information. They reached out and "Unleashed at AniMall" was born. We now take care of all of the overhead and operations of the retail store and they devote their energies to saving more lives. It has been a great partnership so far and we are excited about all that the future holds for both of us.
​
Shortly after taking over the operations of AniMall at Cary Towne Center in the fall of 2017, we embarked on our next big adventure. With 7 busy locations, we decided it was time to take the next step in improved operations, inventory management, and low prices. Since the very beginning we had always talked about how nice it would be to have our own warehouse and self-distribute, and we felt like 2018 was the right time to finally do it. On January 1st 2018, we began fixing up our new distribution warehouse. We hired an awesome warehouse manager, and moved our offices, and our wonderful office staff, to the warehouse. This is also where you will find us most days as we work to continue on our mission each and every day. We enjoy every opportunity we get to be in our stores or out at community events petting dogs and meeting our customers. But if you don't get to see us out and about, please feel free to send us an email, or ask one of our wonderful managers for help (they're all awesome)!
​
We work 7 days a week right now, but it is a labor of love. Every time a customer gives us a personal testimonial about how we have helped their pet (recover from the worst skin problems, stomach issues, allergies, and more), or even how much their pet loved a toy they got from us, it makes it all worth it.
​
Every day we are grateful for our journey and for the customers that continue to support us and make it all happen. We wouldn't be here without our customers and our staff and we can't say thank you enough.