Locally owned & operated stores offering the best supplies at the best prices for every dog and cat!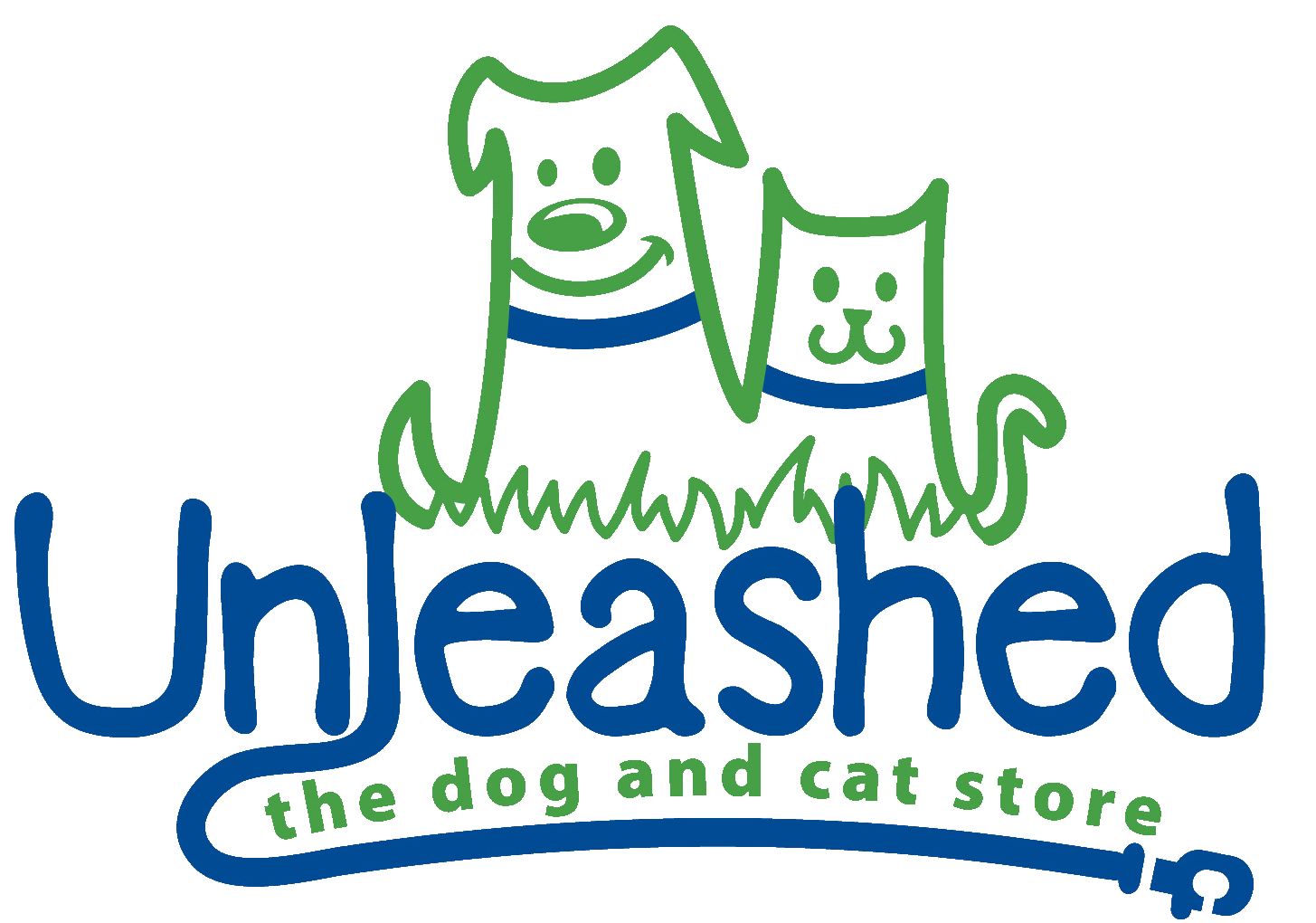 Want to know more about the Unleashed, LLC Mission Statement?
​
Unleashed, LLC, aka Unleashed, the Dog & Cat Store is locally owned and operated by its original founder, Amy Phinney (that's me), and my husband, JP Phinney. Over the years, Unleashed has grown leaps and bounds, but our mission has remained the same. (For more history, click here.)
​
Our Mission is:
To provide the Best a Dog and Cat can get, at affordable prices, so that every dog and cat can be as happy and healthy as ours.
​
Let's break it down now...
"To provide the best a dog and cat can get": Since the inception of Unleashed, we have been committed to finding the healthiest and best products and only selling products that we would personally give to our own pets. If we wouldn't use the product, we won't sell the product. Period. *(even more detail)

"At affordable prices": We have always used minimal markups and fought for good prices to avoid being a high-end boutique, but rather a supply store for all people and their pets. You will find better prices on products at Unleashed than at big box stores, or even big online retailers. And, Unleashed doesn't just carry high-end, boutique items, but everyday supplies like crates, bowls, and more.

"So that every dog and cat": When we say every dog and cat, we mean it. Our store is for everyone from the homeless, still looking for a forever home animal, to the most pampered pet ever. And part of our passion is helping bridge the gap between the two. We are very active in the community helping homeless animals and helping prevent animals from becoming homeless. **(even more detail)

"Can be as happy": We believe in helping make pets happy. We have the best toy selection you will find, including durable toys, interactive toys, and more. Our true specialty is testing every toy on the market for durability and carrying the toughest toys you'll ever find! We also support each pet's happiness in other ways, including spoiling them if they come in, helping pet parents find supplements for issues such as anxiety, or offering advice for almost any kind of issue.

"And Healthy": Our biggest focus is on training our staff to be nutritional experts. We take a holistic approach to health and well-being and are able to help with many ailments including skin issues, tummy issues, mobility issues, anxiety, and more. We get daily testimonials from our customers that are priceless to us and keep us going!

"As ours": These last two words are key to us. Our pets have their own pet store, so they have constant access to the best the pet industry has to offer, and are extremely happy and healthy. But, we want every pet to be just as happy and healthy, even if their parents don't own a pet store. Every pet deserves the best!
**A little more detail about the meaning behind the words "Every Dog and Cat":
​
This simple set of four words actually mean several things to us.
​
When I first penned this mission statement, Unleashed, LLC was just a pop-up tent at a local flea market. I catered to everyone from the bargain shopper to the unique finds shopper. And I believed in helping each and every person and their pet, no matter what their situation. People of all walks of life would do anything for their pet, and I wanted to help them. And I did, and it was amazing. It is something that I teach every new employee: to never judge or predetermine what someone is willing to do for their pet. Help each person do the best they can for their best friend.
​
The other meaning of this is about the dogs and cats that haven't yet found someone to share their unconditional love with.
​
Rescue has always been important to us. My first dog was a mutt, from a stray farm dog, and she was the best dog I could imagine growing up with. Our first dog as adults, Benny (also the inspiration for Unleashed) came from the Pasadena Humane Society where we met him shortly after he was picked up from the streets. Our cats are from the Wake County Animal Shelter. Our second dog was from someone that could no longer keep him, and our third dog is from All Breed Animal Rescue Center. We love our rescue animals and have a commitment to do everything we can to support the shelters and rescue groups who work hard daily to save lives.
We give weekly, if not daily, donations to local groups and host them for fundraisers and adoption events. Some of the most popular fundraisers include dog washes and even rescue cat yoga! We also created and annually host/sponsor/organize the area's largest multi-group dog & cat fundraising event. For more information about this event, check out the website www.K9SpringFling.com.
​
To further continue our commitment to helping local rescue groups and shelters, we partnered with AniMall, a local non-profit organization in the Fall of 2017. We picked up all responsibility for their retail space at Cary Towne Center, and kept them there to focus their attention on saving animals while we run the retail store and take care of all of the business (and bills). Support of Unleashed directly supports AniMall, who has saved over 10,000 lives. At this location, you can find cats and rabbits that are looking for their forever homes. We also carry supplies for more than just dogs & cats at this location.
​
Supporting Unleashed not only supports your local economy, but supports local non-profit groups and homeless animals in a big way.
​
If you are a rescue group or non-profit looking to have an event or work with Unleashed, please click here.
If you are interested in attending a rescue event at Unleashed, please click here.
*A little more about how "to provide the best a dog and cat can get"
​
Like I mentioned, we are committed to finding the healthiest and best products and only selling products that we would personally give to our own pets. In order to do so, we have developed quite a number of parameters, especially for any items that are to be consumed (food, treats, supplements.) Here's a brief overview of some of those parameters.
​
Our consumable products contain:
No Wheat
No Corn
No Soy
No By-products
No chemical preservatives (such as BHA, BHT, EQ)
No Artificial Flavorings or Colors
No Propylene Glycol
No Rawhide or other Indigestible Chews
No ingredients from China or made in China
​
We also offer a large variety of products that are exclusively one ingredient for even more specific issues.
There are options for even the most sensitive or allergic pets (and the pickiest pet parents) at Unleashed.
​
For more details about the ingredients mentioned above, click here.
To see some of the foods that we carry, click here.
​
If you are interested in learning more or purchasing the best for your pet, we strongly recommend you come and meet our highly trained staff and even get a free nutritional consultation.
Check out all of our store locations here.
If you just can't wait, or don't live near us, you can order some of our products here.
​
​
The Best a Dog and Cat Can Get